Retail Property Nottingham Guide
Nottingham – a vibrant city to open your next shop.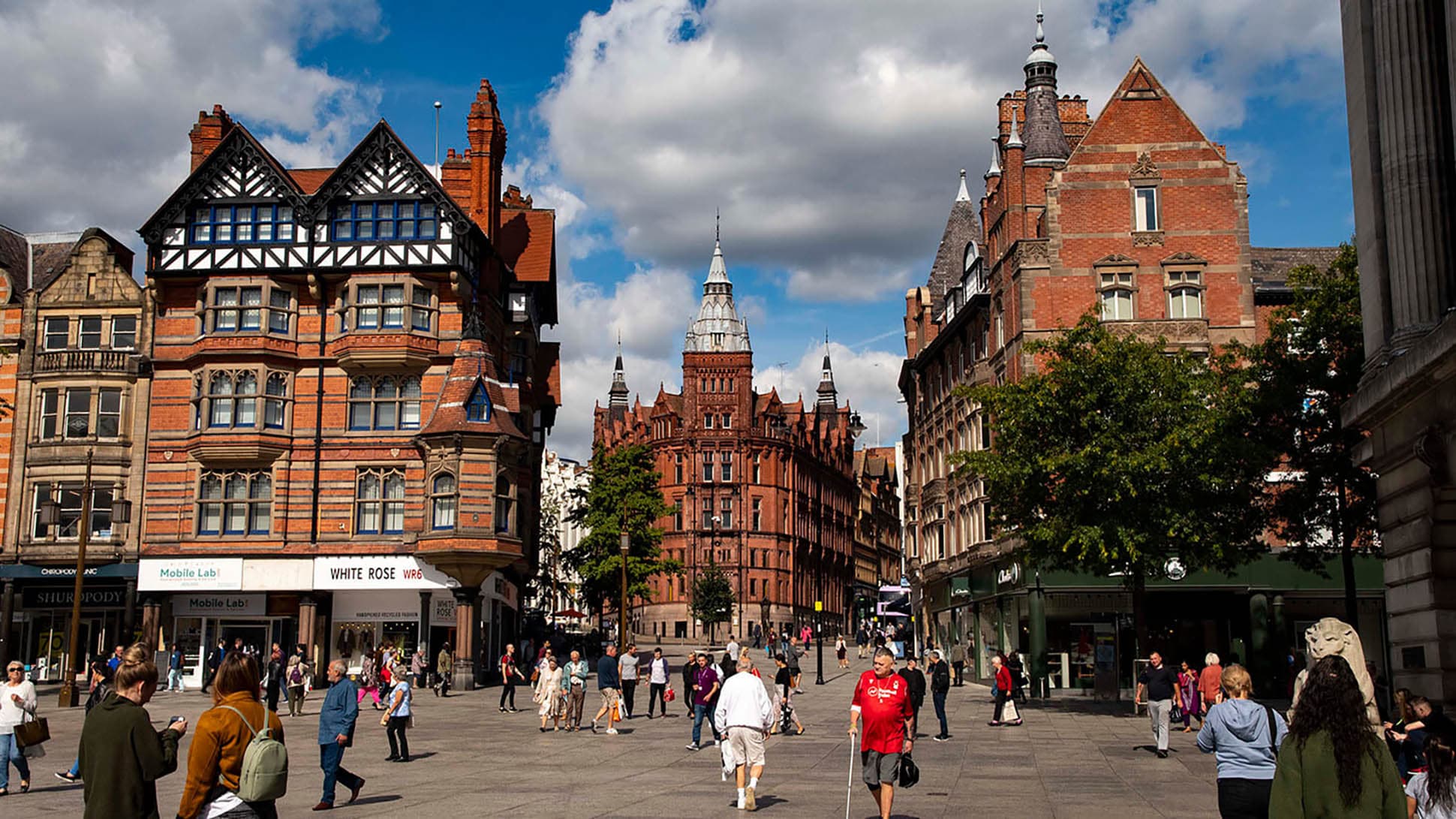 Nottingham's rich cultural history, vibrant atmosphere, and prosperous future marks it as the regional capital of the East Midlands. Nottingham has a wider urban population of approximately 734,000, which is boosted by influxes of tourists keen to explore the city's legendary past as the home of Robin Hood, as well as its array of amenities. Students from Nottingham Trent University and the University of Nottingham constitute 77,000 of the city's residents which, in part, accounts for the unusually young demographic, wherein 50% of the population are under 30. This youth enabled Nottingham's social scene to blossom into one of the UK's best which continues to thrive (both day and night)!
Transport links
Located 128 miles north of London, 77% of the UK's population are able to access Nottingham within four hours. The city benefits from an award-winning transport infrastructure, wherein tram, train, and bus operators have integrated to deliver a reliable and convenient service. Nottingham's unique tram system (Nottingham Express Transit) is estimated to carry 16.5 million passengers annually and provides links between popular destinations within the city, whilst East Midlands Railway is responsible for Nottingham's nationwide connectivity, with regular direct train links London St Pancreas in only 1hr 39mins.
Nottingham high street properties
Nottingham's high street; full of trendy and diverse retailers; has been informed by its past as an international hub for lace and hosiery manufacturing, before becoming the home of the world-renowned fashion designer, Sir Paul Smith. The pedestrianised streets within the compact city centre encourages visitors to explore the variety of shops, encouraging long browsing times for the boutique shops and café's.
Old Market Square lies in the heart of Nottingham, and functions as the city's social focal point. Backdropped by the beautiful architecture of Nottingham Council House, it is the largest public space in the UK following Trafalgar Square and, throughout the year, buzzes with activity. Old Market Square hosts several events and celebrations, including the Christmas Winter Wonderland and weekly Farmer's Market.
From this bustling square stems the city's main shopping streets, including Clumber Street and Bridlesmith Gate, which is home to a combination of independently owned retailers, and popular favourites including Ted Baker, Kath Kidston and Space NK Apothecary. Also surrounding Old Market Square is The Exchange Arcade which features Doc Martens and Radley, whilst the neighbouring Flying Horse Arcade offers a more intimate, boutique shopping experience which includes a Vivienne Westwood store amongst independent retailers such as The Cheese Shop and Gigi Bottega. There are a wide range of available shops to let on these central streets and side streets ranging in size and price from £14,000 to £250,000 per annum, but the most common letting price is around the £40,000 a year mark.
In 2017 the Nottingham Independent Shopping Trail initiative was launched to assist both retailers and shoppers. Accessible via an app, the trail guides shoppers through the city and enables the discovery of hidden high street gems. Whilst encouraging visitors to explore, this scheme greatly benefits local retailers, acting as publicity for them and guiding those interested straight to their door.
Shopping Centres in Nottingham
The Intu-owned Victoria Centre is the city's premier retail scheme, offering 120 shops over 950,000 sq ft and providing a carpark with a capacity of 2750. Featuring department stores such as House of Fraser and John Lewis, and with other notable tenants including Boots, Office, Next, and Tesco Metro, the Victoria Centre has the highest yearly footfall in Nottingham at 23 million, average dwell time of 76 minutes and a retail conversion on 85%.
Also in the centre is Trinity Place a mixed use scheme of approximately 190,000 sq ft with a 449 space multi-storey car park and student accommodation with 700 flats. It is located in a busy part-pedestrianised A3 hub close to Nottingham Trent University and benefits from the local student population. Retailers at Trinity Place include TK Maxx, PC World, The Gym, Waitrose, Caffè Nero, Gourmet Burger Kitchen, Cosmo and Harvester.
This scheme is at the heart of the retail centre of Nottingham with the main frontage on Milton Street extending and complimenting the prime pitches of both The Victoria Centre and Clumber Street. The scheme is situated to the north of Clumber Street, the principal shopping street in the centre of Nottingham, and is located between the Victoria Shopping Centre and the Cornerhouse leisure hub.
Available shopping centre units to rent vary from £35, 000 to £161,500 per annum.
Retail Parks in Nottingham
The decentralised location of retail parks and blend of different retailers has always been appealing to consumers in Nottingham. Victoria Retail park is a favourite with its loyal and affluent locals and attracts 4.9 million visitors a year.
Located just four miles from the centre of Nottingham, Victoria Retail Park is home to brands including M&S Foodhall, TK Maxx, Next, Boots, Pets at Home and Argos.
The park benefits from a strong trading location, opposite a Morrisons supermarket and DW Fitness Club, while McDonald's, Subway and Costa provide a further attraction for the park's visitors.
Giltbrook Shopping Park has a variety of tenant sits adjacent to a large IKEA and retailers include Next, M&S, Decathlon, Barker & Stonehouse, Boots, TK Maxx and Pets at Home. The Centre located 2 miles west of Junction 26 of the M1 motorway and 5 miles north west of Nottingham city centre.
The future of retail in Nottingham
Exciting plans have been announced to transform the former Broadmarsh Shopping Centre, urban designer Thomas Heatherwick, has been appointed to turn the derelict site into a green pedestrian friendly public space where people can live, shop and enjoy leisure experiences. More information on this new development can be found here.
average price to let retail space
£40,000 per year
number visitors per year
4.9 million
Find your next shop to let in Nottingham
Renting a unit within a retail scheme is a great way to gain exposure for your brand because they attract a large footfall of customers who wish to engage with retail, leisure and culinary providers.
View All Schemes in Nottingham
Available properties within the area
We've curated a list of shops to rent in Nottingham, across highstreet and within larger centres. Why not browse our selection today and find a place for your brand?
View All Properties in Nottingham