List your properties on Completely Retail
The UK's no.1 place to find retail and leisure space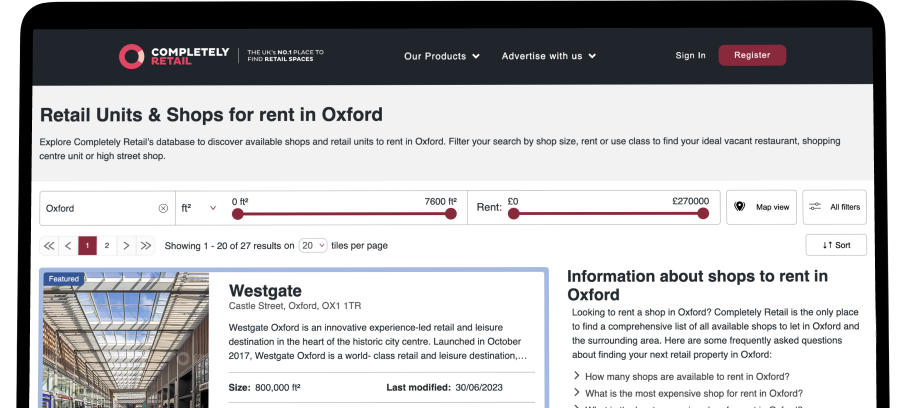 Reach your schemes full potential
Whether you're a seasoned investor or a landlord with a single space, Completely Retail is your key attracting new tenants and unlocking the full potential of your schemes.
Market your entire retail portfolio
Showcase all your shopping centres, retail and leisure parks and list all your vacanies under one branded online portfolio.
Feature your schemes
Optimise visibility for your shopping centres, retail and leisure parks by using our unique scheme sponsorship system to appear as the top search result.
Reach thousands of new occupiers
Reach 1000s of prospective tenants every month, eagerly searching for their next space and get quality leads for your agents.
List your scheme from
£750pa
Top search rank positions
Branded portfolio page
Ongoing management of your marketing materials
Access to all property and scheme data
What out clients say

"The Completely Retail team are superb and a pleasure to work with. The creative studio are particularly noteworthy - their deep knowledge of real estate helps us create slick marketing materials - the team are pro-active, flexible and always prompt on communications and design turnarounds."
Lucy Mitchell
Director of Corporate Communications, and Investor Relations
"The convenience of advertising and managing our marketing material on the Completely Retail's platform across our extensive portfolio has saved us a significant amount of time and effort over the years. The team are always on call to ensure our data and marketing collateral is always up-to-date, visually appealing, and tailored to resonate with the right tenants."
Adam Stone
Director

"We've sponsored our UK retail and leisure schemes on Completely Retail for over 10 years. As a company managing a diverse range of assets, keeping track of leasing activities and effectively marketing our shopping centres and retail parks is important to driving performance for our clients and, for responding to requirements of our occupier customers. Completely Retail's user-friendly site allows us to seamlessly manage the online marketing of our assets alongside production of associated marketing materials. In an ever-changing landscape, Completely Retail continues to be a valuable partner in our success."
John Duxbury
Head of UK Portfolio Asset Management
Why Completely Retail
Completely Retail is the UK's leading retail property platform. We are focussed on connecting people actively seeking retail and leisure space with agents and landlords.