Retail Property Glasgow Guide
Glasgow - the hub of Scottish Shopping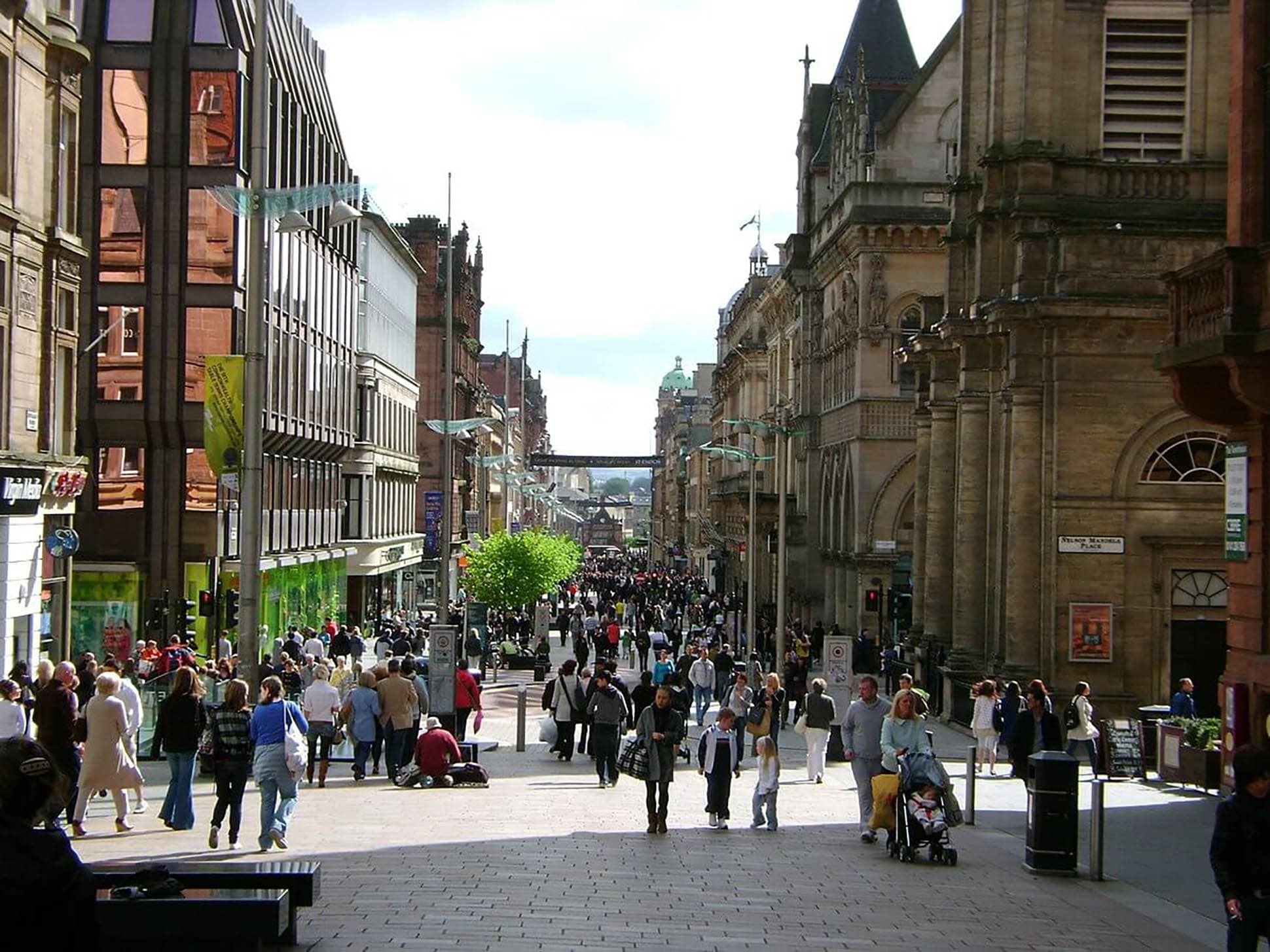 Glasgow, Scotland's largest city, is welcoming and lively, brimming with opportunities for visitors to immerse themselves in its rich history and culture. The city has a population of approximately 1.68 million alongside the 2.3 million tourists that visit, excited to explore one of Europe's most vibrant and cosmopolitan cities. Glasgow has experienced 150% growth in the number of overnight visitors since 2012, which is reflective of its evolution into a thriving metropolis that has taken place over the recent decades. Considered to be the UK's top creative and cultural city, the Scottish hub for live entertainment, sport and music, whilst also offering abundance and variety to shoppers, Glasgow has a compelling pulling power.
Transport links
Glasgow benefits from the efficient and extensive transport infrastructure that enables over 1.5 million people to access the city within 45 minutes. Glasgow is served by two primary railway stations: Queen Street Station and Central Station, which carries 33 million passengers a year, provides over 20 trains to London a day, and 8 trains to Edinburgh per hour. These stations are at the heart of Glasgow's suburban rail network which is the largest of its kind in the UK outside London. The subway, which runs every 5 minutes is the easiest way to get around the centre and west areas of Glasgow, whilst buses operate on over 80 routes and make travelling within the city convenient.
Glasgow's high street
Glasgow is the largest retail district outside of London and has been called a 'Shopaholic's Paradise' by Lonely Planet thanks to the diverse and trendy shops that the city offers, particularly the 'Style Mile'. The 'Style Mile' comprises several pedestrianised streets which are packed with a mix of designer brands, high street stores and independent labels. The price to rent shops in this fashionable area ranges between £42,000 and £250,000 per annum.
Buchanan Street is Glasgow's primary pedestrian boulevard, which, in 2019 recorded a footfall of 52.7 million, making it the busiest high street in the UK other than Oxford Street. This iconic street, lined with architectural gems, features the original House of Fraser department store as well as an array of popular names including Zara, Nike, Diesel, New Look and Apple.
Ingram Street is considered to be Glasgow's most exclusive and upmarket destination for fashion-lovers. This street is anchored by the beautiful former banking hall which is now home to Jigsaw, whilst Gant, Emporio Armani and Ralph Lauren are amongst the many other brands on offer.
Sauchiehall Street, one of the city's most famous streets provides visitors with a variety of dining options, the opportunity to watch local and international music artists as well as a number of popular retailers. Marks and Spencer and TK Maxx have major shops on Sauchiehall street, which thrive alongside the legendary Watt Brothers department store.
Shopping centres in Glasgow
Buchanan Galleries is situated at the north end of 'Style Mile' on Buchanan Street and is home to over 80 well known retailers and 2000 parking spaces. The complex has been a cornerstone of Glasgow's shopping scene for several decades and is home to John Lewis, Victoria's Secret, Mango and Warehouse. Shops to let in Buchanan Galleries typically range in price from £127,000-£210,000 per annum.
Princes Square, a shopping centre that occupies 'Scotland's favourite building' is located in the centre of Glasgow, on Buchanan Street. It is considered a high fashion destination due to the abundance of globally trendy stores it offers. Shoppers can indulge in brands such as Kurt Geiger, Jo Malone, French Connection and Vivienne Westwood, as well as enjoy a variety of leisure activities, following its £7.5million.
The Forge Shopping Centre, located in the East End of Glasgow, is home to over 70 high street shops. It is particularly committed to providing easy access for disabled visitors and so offers a huge range of customer services and facilities. With free parking for over 1,600 vehicles, shoppers can conveniently browse River Island, Clarks and Superdrug as well as many others. The average price of units to rent in The Forge Shopping Centre is approximately £32,000 a year.
Glasgow Fort is a leading shopping and leisure destination that serves the North, South and East of the City. Anchored by an 80,000 sq ft Marks and Spencer store, Glasgow Fort offers a variety of the UK's favourite retailers including Fat Face, H&M, Office and Zara. With a footfall of 14 million per year, the price of shops to rent in Glasgow Fort ranges from £70,000 to £125,000 per annum.
Glasgow's St Enoch Centre has led the way for Scottish shopping since its opening in 1989. Famous for its family friendly nature, St Enoch Centre offers an array of restaurants and cafes as well as The Disney Store and Hamleys: every child's dream. It is also home to staples of high-street fashion, including H&M, Superdry and schuh.
The bright future of Glasgow's retail scene
The St Enoch Centre is currently undergoing a £40 million development which. will see 140,000 sq ft of fashionable new shops and leisure experiences being launched later this year.
The planned £100 million Glasgow Harbour Lifestyle Outlet is another of the city's exciting retail developments that will transform the waterfront of Glasgow's west end. It will be linked to the main city by two new bridges and aims to become Scotland's premier shopping destination, offering concierge and VIP services which will assist in promoting Glasgow on the international retail stage.
average price to let retail space in Glasgow is between
£42,000 to 250,000 per year
number visitors per year
2.3 million
Find your next shop to let in Glasgow
Renting a unit within a retail scheme is a great way to gain exposure for your brand because they attract a large footfall of customers who wish to engage with retail, leisure and culinary providers.
View All Schemes in Glasgow
Available properties within the area
We've curated a list of shops to rent in Glasgow, across highstreet and within larger centres. Why not browse our selection today and find a place for your brand?
View All Properties in Glasgow